Hello and a warm welcome to my blog!
If you're wondering who's the person behind the posts, you've come to the right place.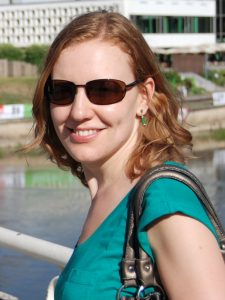 My name is Ilze and I come from the small and green country of Latvia by the Baltic Sea. My path of education brought me to Northern Germany where I met my husband and decided to stick around a for a while longer.
This blog was originally created to share our honeymoon adventures in Malaysia and Singapore. I revived it a year later out of two reasons: a strong wish to procrastinate from writing my PhD dissertation and, more importantly, because I was pregnant. I believed that the blog would be a wonderful way of documenting our journey into parenthood.
Our little Birdy was born in March 2014, and was followed by her brother Bamm-Bamm in May 2016. Thanks to them the main topic of this blog has turned towards multilingual and multicultural parenting. And what a mix it is! The little ones already have two citizenships – German and Latvian – and are growing up tri-lingually: I speak Latvian, my husband speaks German, and we use English when speaking to one another. The mix is even more diverse culturally: I'm Latvian while my husband's mom is German and dad is Malaysian Chinese.
Stay tuned if you want to know how we manage this crazy mix from one day to another!
You can contact me at: ilzele[at]letthejourneybegin.eu