This week's update comes a little later than usual.
On Friday evening – my normal writing time – I was busy wrapping gifts, decorating the living room, and googling strawberry cake recipes.
More on that in a moment.
What's been happening in Germany
On Friday evening, the number of confirmed cases of COVID-19 had surpassed 175,000. 7,900 people had died from the virus. The number of new cases continues to fall, indicating that the first wave of careful reopening (coupled with mandatory masks indoors) has been successful.
This week restaurants and hotels welcomed the first visitors and football fans were excited about the restart of their favorite sport. Meanwhile, less joyous news came from the federal statisticians – the economy is (unsurprisingly) in recession and might contract by as much as 6-7% in 2020.
In other news, Germany is beginning to relax border controls, free inter-EU travel will be possible by June 15. Furthermore, several federal courts overthrew the requirement of mandatory 2-week quarantine for everyone who enters the country.
Despite the loosening of measures, the protest movements are growing also here in Germany. Populism appears to be on the rise. The political parties that presented a united front at the beginning of the lockdown are back to debating and bickering among (and within) themselves. The vast majority of the population continues to support the government's safety measures but the proportion is gradually declining.
There are stormy waters ahead.
Life at home
Today we mark 64 days of sheltering at home. Tomorrow our kids will return to daycare after spending over two months at home.
Meanwhile, Daniel and I will continue working from home. The benefit of working for IT companies, I suppose. Both of us could work from the office if we wanted to, we would just need to give a heads-up to our bosses. But what's the point of commuting to work if you cannot socialize with colleagues?
Have we achieved anything during these last 9 weeks?
I keep seeing people on my social media who are doing magic in the kitchen, practicing yoga in front of their TVs, and being creative doing crafts, music, and in a myriad of other things. By that measure, I don't feel successful at all. However, we have all survived and stayed sane. And we all still like each other. So I will just consider that a win.
Birthday celebrations
After a fairly uneventful week – I guess we did succeed at finding a decent routine after all – the weekend was for celebrating. The youngest member of the family turned four!
Fortunately, he was more than okay with not having a big birthday party. And, as the city of Hamburg had relaxed the social distancing restrictions at the beginning of the week, we could briefly meet his grandma, aunt, and little cousin in the nearby park.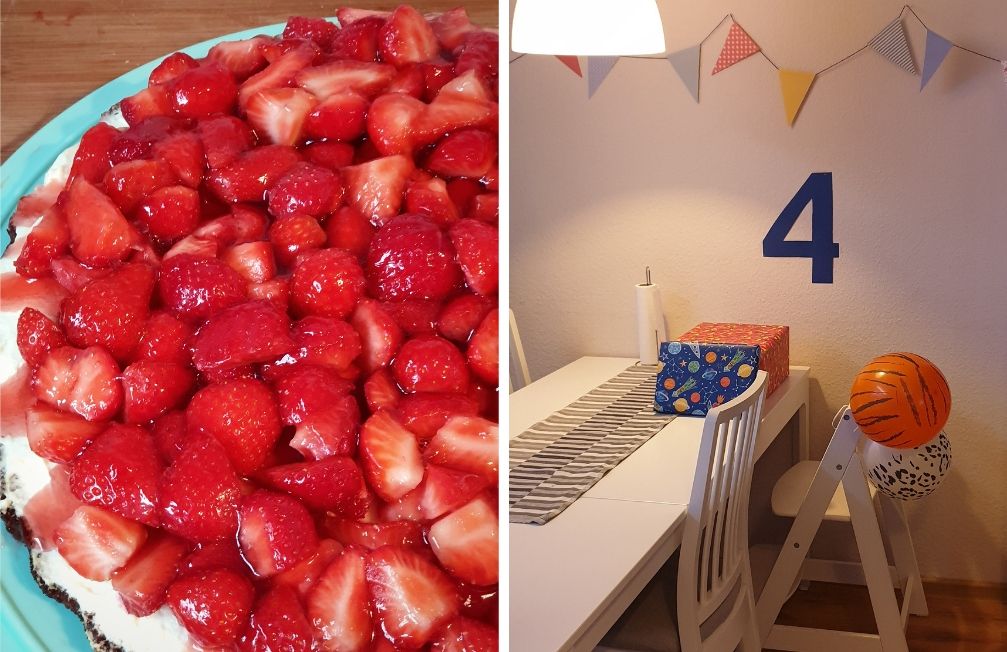 Back to the daycare!
Much to their excitement, the kids are returning to daycare tomorrow. Especially Birdy cannot wait to see her friends!
Of course, also the daycare routines have changed in the times of Corona. We now need to measure the kids' temperature before leaving home, and wear masks and be mindful of safe distance when dropping off and picking up the kids. And our freshly 4-year-old has been promoted to the preschool group as siblings are placed in the same group for the time being.
I'm excited about some quiet around the house and not being interrupted every 10 minutes with one request or another. At the same time, I'm concerned about a whole new set of issues. Like whether we finally need to stock up on food now when we'll be mingling with considerably more people. Or how the daycare will manage the very mixed group of preschoolers and their siblings.
Hope for the best prepare for the worst?
3 things I'm loving right now
I have been following Humans of New York for years and the stories shared in their pandemic edition are more beautiful and moving than ever. You can find them on Instagram and Facebook.
Have you heard about the Harry Potter at Home Readings of Harry Potter and the Philosopher's Stone (Spotify link)? For example, Chapter 1 is read by Daniel Radcliffe, Chapter 4 by Stephen Fry.
And finally something funny: what happens when you replace everyday items with baguettes? #baguetting
---
Continue reading: