I've written a whole series about prenatal care in Germany on this blog but haven't said a single thing about postpartum care. I'd say it is high time to correct that!
Two years ago, when Birdy was still in my belly, in the post about the various tasks that midwives do here in Germany I wrote:
In the first 10 days after delivery your midwife will visit you at home every day, then every 2-3 days until the end of the 8th postpartum week. She will give advice, teach, and help practically with everything related to taking care of the baby, e.g., breastfeeding, bathing, diapering, as well as your postpartum recovery and general well-being.
This prolonged midwife care is closely tied to a German law that forbids doing any kind of work in the first eight postpartum weeks. You're legally not allowed to move a finger even if you wanted to. This period is called "Wochenbett" – week's bed – and most midwives will make sure that you take this quite literally, advising to spend the first one or two weeks in bed, eat chicken soup, and focus on recovering and adjusting to life with a baby.
You have to find a midwife for postpartum care yourself and trust me when I say this: make sure you choose someone who you're comfortable with! This person will come into your home on an almost daily basis and, from bodily fluids to bowel moments, there will be no secrets between you and her.
Yet, while some of her questions may embarrass you at first, your midwife will be a voice of calm, reason, and countless advice in the hectic, sleep deprived, and overwhelming time that follows bringing a baby into this world.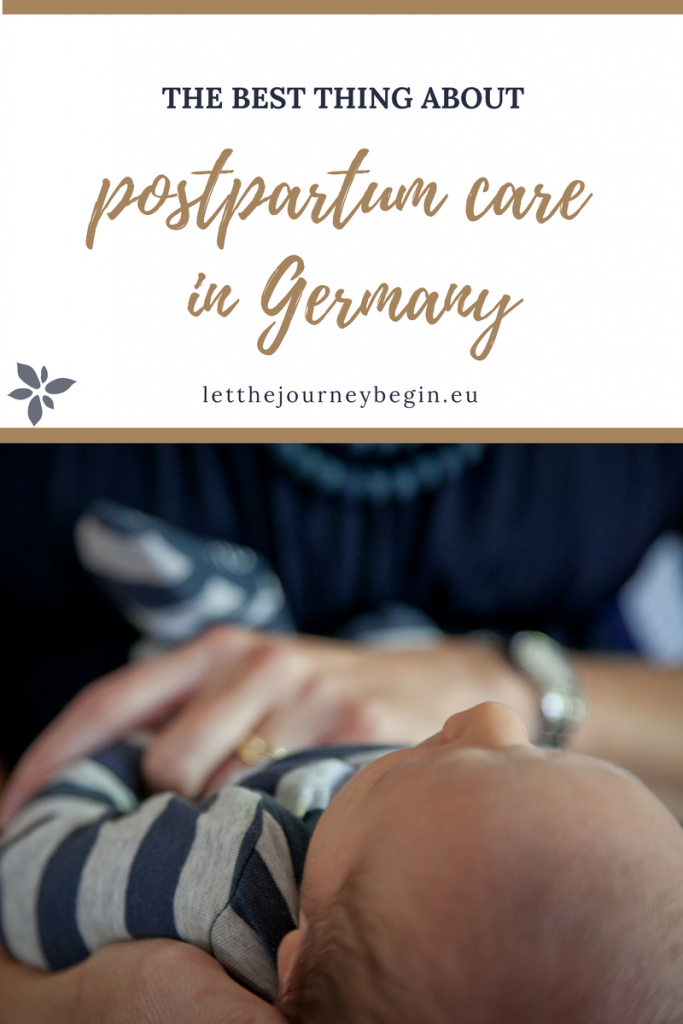 She will take care of your baby…
She will check that the little one is growing well by weighing and measuring him regularly.
She will care for the umbilical cord stump and make sure that it heals well.
She will keep an eye out for everything from diaper rash to the baby's head shape so that little things don't turn into something more serious.
She will provide plenty of advice and even (homeopathic) medicines for every complaint, big or small.
She will ascertain that you find a pediatrician and remind you to schedule the mandatory checkups.
She will teach you to take care of your baby…
She will help you with breastfeeding, give you advice for circumventing problems from wrong latches to plugged milk ducts and, if you wish, teach you how to pump.
She will answer any questions and help with any uncertainties, be it cures for tummy aches or ways of helping the baby sleep in their bed.
She will teach you how to bath the baby and, if you want her to, take charge of the little one's first bath-time(s).
She will give you tips and tricks for changing diapers, handling the baby, dressing the baby, and many other small things that can make your daily life a little easier.
She will advise you on babywearing and teach you how to use a sling.
She will provide you with encouragement and tell you that you're doing a good job.
She will take care of you…
While you are completely focused on caring for your baby, your midwife will make sure to take care of you, both physically and mentally.
She will check that you are recovering and healing well.
She will scold you if you're not taking it easy or even dare to think about lifting something heavier than the baby.
She will teach you some basic exercises to help the recovery, remind you to do them daily, and nudge you to sign up for a post-pregnancy fitness course.
She will keep an eye out for any signs of postpartum depression and intervene if necessary.
If needed, she will even draw blood samples and give you (homeopathic) medicines.
Perhaps most importantly, her constant presence and help will give you a peace of mind. A knowledge that both you and your baby are doing well and, if you aren't, that the help is right there.
In my experience, the midwife system is the greatest thing about postpartum care in Germany, especially if you're a first time parent without close family nearby. When Birdy was born I completely relied on my wonderful midwife and didn't open "doctor Google" once. In the eight postpartum weeks she helped me to grow from someone who had never held a baby (yes, really!) or changed a diaper to a mom who, mostly, knew what she was doing. Even though I had much less questions the second time around, her help and advice were still invaluable.
KEEP IN MIND
Finding a midwife for postpartum care has become difficult in Germany. Due to soaring insurance costs (and several other factors) many midwives have left the profession. Check this article on the Guardian if you want to know more details. At the same time, birth rates across the country have been increasing from year to year. As a result fewer midwives have to take care of more moms and babies.
Long story short, start searching for a midwife as soon as you have found out that you are pregnant. And be prepared to make a lot of phone calls.
A good start is the website https://www.hebammensuche.de/. Check also for nearby midwife practices or local mom groups on Facebook.