One morning early December found our little household in a flurry of activity. As we finally hauled our two large suitcases down the stairs to the taxi waiting by the door, strapped Birdy in her car seat, and made ourselves comfortable for the ride to the airport, we were both excited and a little anxious.
Excited because it would be the first trip to the Southern US for all of us and we'd be attending the wedding of a close friend. Anxious because we had never traveled so far (and long) with the little one. Sure, we had plenty of short flights under our belts, but those are simple and we have a good system worked out for making them as easy as possible. This time we would be dealing with around 15 hours of travel and a six hour time difference.
After considering several options, we had chosen to fly with British Airways. The first flight would take us from Hamburg to London then, after a three hour layover, we would board our 9,5 hour flight to Atlanta. As we'd be arriving around 7 pm local time, we had chosen a hotel near the airport and would continue to Augusta the following day.
The transatlantic flight had been our main concern from the very beginning. I usually enjoy the long flights – I mean, all you have to do is choose a few good movies and let the stewards provide you with food and drink. But how do you keep a toddler entertained for so long without much opportunities of moving around?! We packed a good supply of toys and snacks and hoped for the best.
Atlanta, here we come!
The short hop to London was over before we knew it – we boarded, lifted off, had a tea and a snack, read a picture book with Birdy, played with her new puzzle (see below) and it was already time to land. We spent our time at Heathrow buying some gifts and did what we do 90% of the time when we're at a British airport – went to Boots and got ourselves their meal deal (plus a few extra snacks for the little one). Once we had eaten Birdy was getting a bit cranky so, instead of locating the terminal playground, we decided to put her down for a nap in the baby carrier and made our way to the departure gate.
One of the perks of travelling with small children is early boarding and we made a good use of that. As soon as we were on the plane, I let hubby deal with our hand luggage and went straight to the nearest steward. You see, as Birdy is still under two she doesn't get her own seat on the plane. In hopes of getting some extra space we had booked two aisle seats in the middle section of the plane, so I wanted to check whether we can make some arrangements. As it turned out, the flight was almost completely booked out but, fortunately, the gentleman who had his seat between us was happy to move a few rows back and we got a seat for the little one.
To keep Birdy entertained during the long trip, we had packed a few old & new books, the aforementioned owl puzzle, a play wallet, and a brand new magnetic drawing board. We soon concluded that she would have been happy with much less. Once Birdy saw that an episode of Peppa Pig is available on the in-flight entertainment, watching the little screen was all she wanted to do. She disliked the headphones but apparently sound was not important and the 20 minute episode seemed to get more and more exciting every time she watched it. I have to admit that we felt like terrible parents. Sure, her being so preoccupied with TV meant considerably less work for us but watching so much cartoons can't be good for her little brain, can it? In the end we tried to find a balance between Peppa Pig, other toys, and moving around a little bit.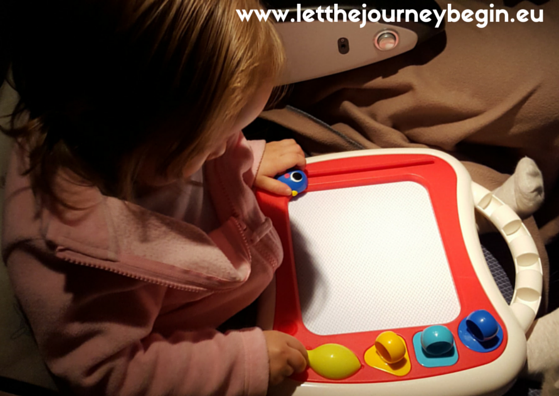 All in all the flight passed quite peacefully with one considerable exception. Once it was 9 pm German time I tried packing Birdy in for a nap but she claimed that she didn't want to sleep and, as she was in a great mood and didn't appear too tired, I figured that an extra half an hour of awake time won't do any harm. Bad, terrible, horrible idea. Half and hour later she was overtired and hubby had to endure quite a lot of crying and fighting until she finally was able to fall asleep. Luckily from then on the rest of the flight went by peacefully. Birdy slept, we both had a small nap as well, and once the crew served a pre-landing snack of black tea and scones with clotted cream & jam (cream tea is one of my favorite English foods of all time) I felt happy and relaxed again.
As we finally reached the Atlanta airport all Birdy wanted to do was move around. She was even running in circles! We got through immigration fairly quickly, and grabbed a taxi to the hotel with dinner and a good night's sleep on our minds.
The way back home
Compared to the flight to the US, the way back home was very easy and relaxing. We had chosen a late flight that ended up being delayed by almost three hours, meaning that we left Atlanta only at 11 pm. We had kept the little one awake, moving around and playing, so she was exhausted by the time the plane lifted off. We gave her some dinner, let her watch the same episode of Peppa Pig once more (it still hadn't lost its attraction), then packed her in the baby carrier and she fell asleep in under 10 minutes.
We had again been lucky to arrange a free seat between us so I was able to lay her down to sleep in the seat between us. Hubby and I had a peaceful dinner, watched a movie, and then tried to get some sleep as well. Birdy slept almost the whole flight, we even had to wake her up before landing to make sure that she gets something to eat before we arrive in London.
The six hour nap on the plane hadn't been enough and our little one was ready to sleep more around an hour after we had gotten off the plane. Long story short, we again didn't have a chance to try out the terminal playground and Birdy woke up only once we were on the plane to Hamburg. The hour long flight was easily filled by snacking and games, and soon we were back on the ground. We picked up our suitcases, once more took a taxi, then ordered takeout food for dinner and went straight to bed in the hopes of not having a jetlag.
The second flight had taught us a very important lesson: when flying with a toddler, night flights are the best!
That's all for now, stay tuned for more stories and photos from our trip to the USA!