As my father-in-law invited us to dinner for celebrating Chinese New Year, I realized that there is one part of our family's cultural heritage that I have paid little thought to. As we live in Germany it is quite clear that Birdy will get to know German customs and festivals. And I will certainly do my best to introduce her to Latvian celebrations and traditions. But are we also going to pass on Chinese traditions to our little one?
Our family might be just 1/4 Chinese but Birdy does have a Chinese last name as well as a Chinese second name. Thus, it is quite likely that there will be times in her life when she will be identified as Asian even though, essentially, she is more Latvian than Chinese.
But, if we want to introduce her to the Chinese part of her heritage, how should we go about it?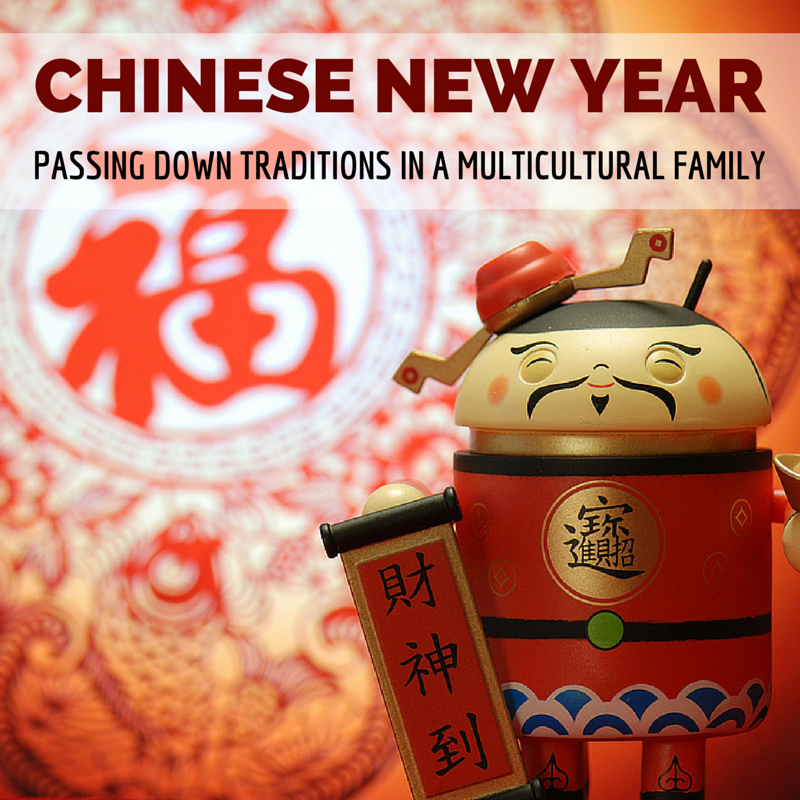 Chinese New Year, also known as the Lunar New Year or the Spring Festival, is the most important holiday in China and lasts for 15 days. It is also celebrated in other parts of East Asia, not to mention any city on the planet that has a Chinatown.
The celebrations of Chinese New Year conjure images of blazing fireworks, colorful parades with magnificent dragons, bright lanterns, lavish meals, crowds of merry people, and the colors of red and gold everywhere. But these festive images have little to do with the New Year celebrations that hubby has grown up with and that I have experienced these past few years.
Our Chinese New Year means the family getting together for a more elaborate version of the weekly dinner at my in-laws. We have a delicious meal and receive a red envelope during the course of the evening, but the things we do are largely untied to the traditions and symbolism of the New Year celebrations in China.
As Birdy grows bigger we can try to introduce her to Chinese festivities, going above and beyond that what hubby has experienced growing up. But how do we begin? Customs and traditions are different from region to region and change in the course of time. Do we teach her the heritage of the Cantonese region the family originally comes from? Or should we stick to that what is done among the Malaysian Chinese nowadays? Or perhaps in the small Chinese community here in Hamburg?
To cut a long story short, what I am wondering about is this: if we introduce Chinese traditions that my husband never had growing up, can it be seen as a true passing down of cultural heritage?
---
This post is part of the Chinese New Year series and giveaway on Multicultural Kid Blogs. Enter our giveaway to win one of these great prize packages, and don't forget to link up your own posts about Chinese New Year on our main page!
Giveaway begins Jan. 21 and goes through midnight ET on March 5, 2015. Enter below for a chance to win! Remember you can make a comment on the blog post of a different co-host each day for an additional entry.
First Prize Package
From Tuttle Publishing, All About China: Take the whole family on a whirlwind tour of Chinese history and culture with this delightfully illustrated book that is packed with stories, activities and games. Travel from the stone age through the dynasties to the present day with songs and crafts for kids that will teach them about Chinese language and the Chinese way of life.
Also from Tuttle Publishing, Long-Long's New Year, a beautifully illustrated picture book about a little Chinese boy named Long-Long, who accompanies his grandfather into the city to sell cabbages in order to buy food and decorations for the New Year. Selling cabbages is harder than Long-Long expects, and he encounters many adventures before he finds a way to help his grandfather, and earn New Year's treats for his mother and little cousin.
From A Little Mandarin, a CD featuring a collection of Chinese children's classics – songs loved by families in China for generations – given new life with a contemporary sound and voice. The 15 tracks fuse rock, pop, dance, ska, and hip hop influences with playful lyrics to make it a unique and fun learning companion for all ages. Featured on Putumayo Kids Presents World Sing-Along.
Second Prize Package
US shipping only
From Tuttle Publishing, Celebrating the Chinese New Year, in which Little Mei's grandfather tells her the stories of Nian and the monster Xi for Chinese New Year.
Also from Tuttle Publishing, The Sheep Beauty, which brings to life the kindness and generosity of those born under the sign of the sheep in the Chinese zodiac.
Also from Tuttle Publishing, Chinese Zodiac Animals, a fun and informative way to learn about the ancient Chinese Zodiac, explaining the traits of each animal sign and what luck the future might hold for the person born under that sign.
From Tiny Tapping Toes, a monkey drum, plus a free pdf of a craft version. World Music children's performer DARIA has spent the last two decades performing in the USA and around the world, creating music to inspire all the world's children and allowing children to become a part of the celebration and the fun of exploring world cultures.