Living in Germany, May has become my favourite month of the year. And no, it's not only because it's when I met my husband, got married, or when our son was born.
In northern Germany, May encompasses more holidays than any other month of the year. Between Labour Day, Ascension Day, and Pentecost, we have a good chance of enjoying three long weekends almost back-to-back. Furthermore, up here between the North and Baltic Seas, May is known to bring better weather than some summer months.
This year, we decided to make one of the long weekends special and do a family staycation exploring Hamburg.
A family staycation?
According to Google, staycation is a blend of stay and vacation and means
a holiday spent in one's home country rather than abroad, or one spent at home and involving day trips to local attractions.
This is a perfect description for what we did: we rented a car to explore nearby attractions while spending every night in our own cosy beds.
Klövensteen forest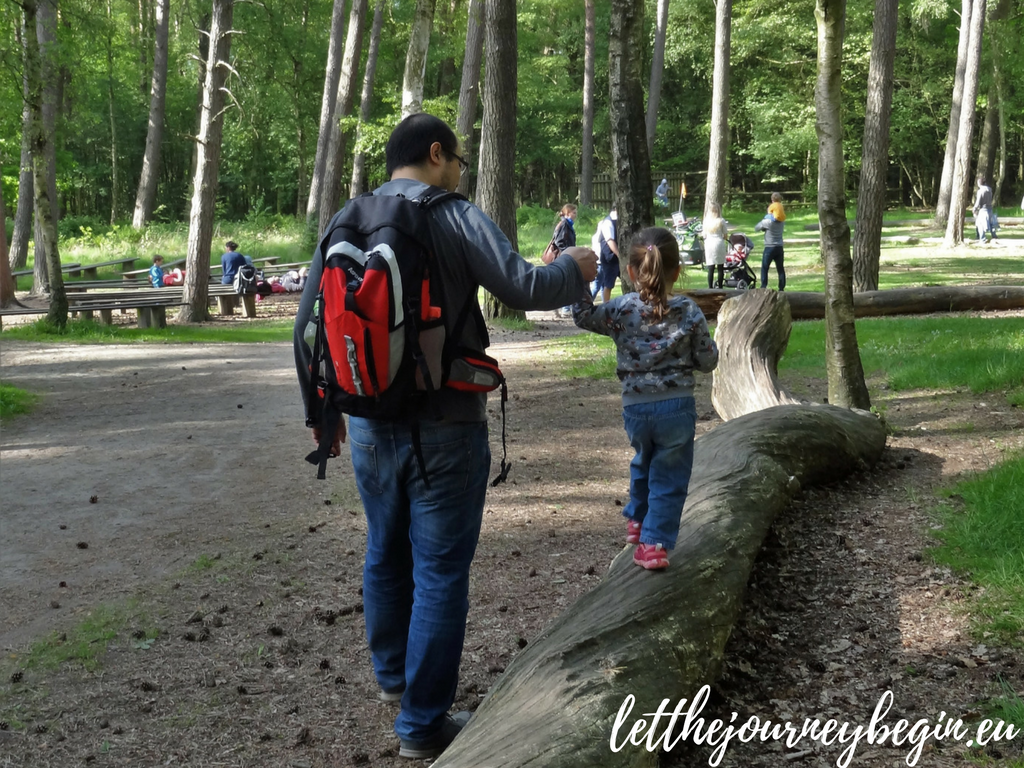 In the West of Hamburg, on the border with Schleswig-Holstein, lies the 580 hectare large Klövensteen forest. It encompasses a nature reserve, countless walking and cycling trails, a pony farm, as well as a free-of-charge game reserve with wild boars, deer, roe, and other local animals.
The Germans call this an "Erholungswald" – a recreational forest. It had been on my bucket list ever since I first read about it while working on an article about Hamburg and I'm happy to say that it didn't disappoint.
We spent a lovely afternoon running around forest paths, admiring wild boar piglets, and testing the slides in one of the forest's playgrounds.
While coming here by car was quick and easy, I'd definitely consider taking our bicycles, driving to the nearby Rissen S-bahn station, and exploring more of the forest by bike.
Schwarze Berge wildlife park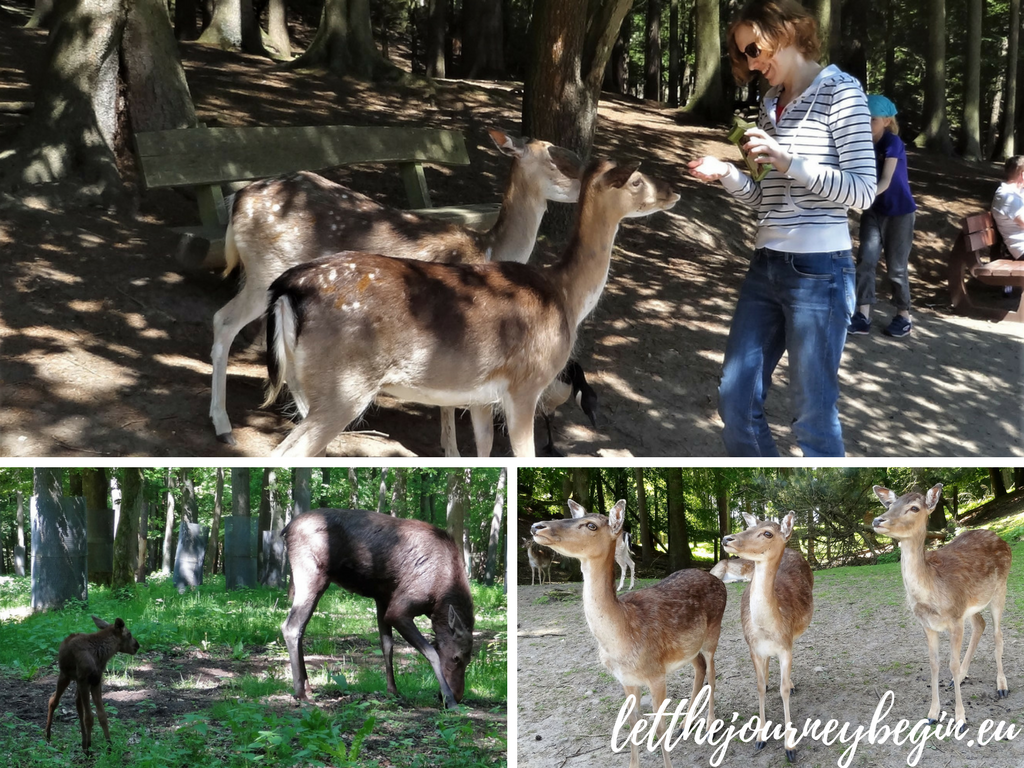 The wildlife park Schwarze Berge on the south of the Elbe River is one of my favourite places in Hamburg. Arriving before noon on a sunny Friday, we found the park quite empty of visitors. We bought a few food packs for feeding the animals and made our way through the forest in the crisp morning air.
The park is home to over 1000 animals from around 100 species. Since spring is baby time, we also saw quite a few of the park's new inhabitants. For example, the adorable week old baby elk in the photo above.
My favourite place in the wildlife park is the valley around a small lake inhabited by a free-ranging does who will happily eat from the palm of your hand. Our three-year-old opted for the safer option of throwing the snacks on the ground. She had learned her lesson from the cheeky young goats who were ready to do anything to get the food out of her hand.
The Schwarze Berge wildlife park is, without a doubt, one of the best ways to spend half a day with kids of all ages. We visit at least once a year!
Elbe beach at the Falkensteiner Ufer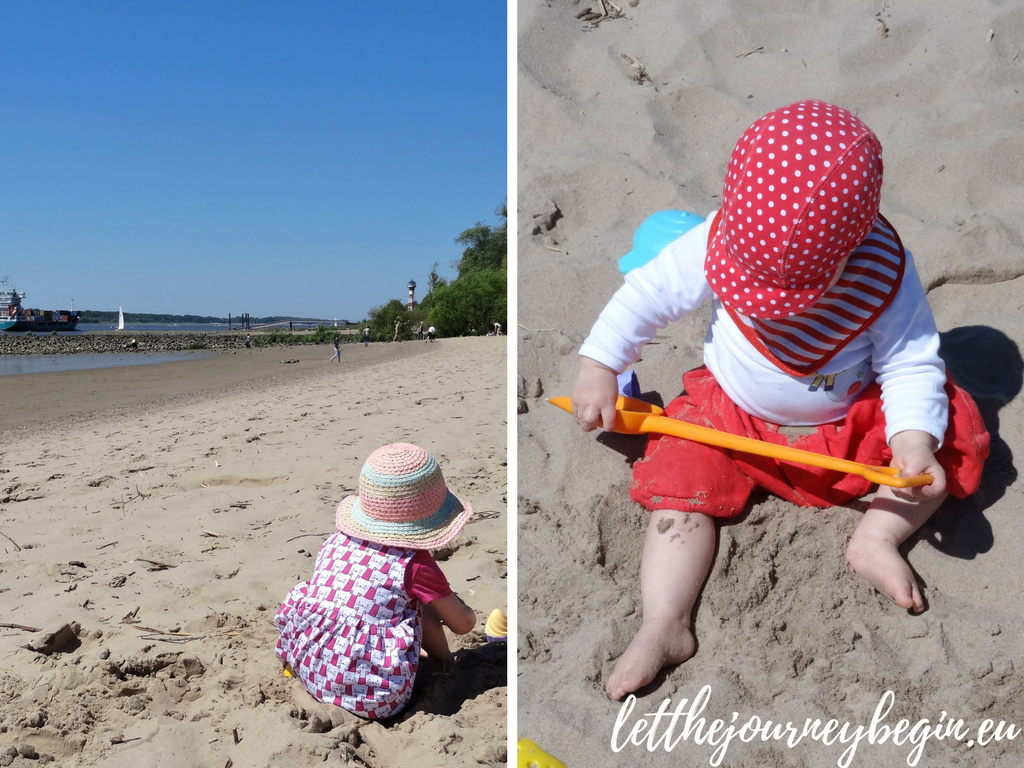 Hamburg is one of the biggest ports of Europe but that doesn't mean that we're close to the sea. Fortunately, the Elbe River offers some lovely sandy beaches. The only downside is that swimming isn't allowed (more because of the passing ships than of the quality of water).
But, to be fair, the nearby seas are often too cold for swimming anyway so you're not missing out on much.
The kids had a lot of fun digging in the sand (especially the one-year-old) and watching ships of all shapes and sizes passing by (especially the three-year-old). We had a picnic and soaked up the sun, all just a half an hour from the heart of the city.
A word of advice though if you're coming by car: arrive before 10 am or park further uphill. It's almost impossible to find a parking spot close to the water and, according to a lady working at the nearby camping place, the police are keen to stop by on sunny weekends and write parking tickets.
---
These places a just a small glimpse of what Hamburg has to offer for a family staycation. For example, a day trip to Altes Land – the biggest fruit garden of Central Europe – remains on my bucket list for the next time.
What are your favourite things to do during a family staycation?