Continued from part 1…
I arrive at the daycare exactly at 2 pm and find my daughter on the playground. She's barefoot, covered in sunscreen and sand, and having the time of her life playing in the mud kitchen. Her group teacher tells me that Birdy decided that she doesn't want to nap today. Apparently, after some 30 minutes of cuddling in the sleeping room, Birdy announced that she was done, so to the playground she went. I appreciate the respect for her making her own choices (I have childhood trauma from being forced to sleep in the daycare). But skipping the nap means that Birdy has half the usual patience and double the single mindedness. Not an outlook for an easy afternoon.
Be that as it may, at the moment she's in a great mood and happy to go home. First we stop at the store for some grocery shopping. We get the ingredients for tomato soup – a dinner idea intended for saving a loaf of sourdough bread that I baked without salt and sugar (damn you, sleep deprivation!). Hopefully it at least makes decent croutons. We're quickly done, I pack the shopping in my backpack and we head home.
Some months ago we gave up taking a stroller to the daycare as Birdy prefers to walk by herself. So now I have an asleep Bamm-Bamm in the carrier in the front, a backpack full of groceries on the back, and Birdy is holding my hand. Today she's decided to make a stop at every single corner so going is super slow but that turns out to be good thing. We run into the DHL guy who has been keeping an eye out for us since I wasn't at home to receive the package. Now I have Bamm-Bamm in the front, groceries on the back, a package in one hand, and Birdy on the other but at least this saves me a trip to the post office tomorrow.
Bamm-Bamm wakes up from his short nap exactly as we arrive home, so I quickly unpack, make a sandwich for myself, and sit down on the couch to feed him. Birdy keeps me company by sorting and resorting all her hairbands, hair clips, plastic coins, and other valued items in a little jar. When the little one is done, Birdy and I assemble a floor puzzle while Bamm-Bamm lies next to us playing with his wood activity gym. Later we move to Birdy's room to play with Lego: I arrange the blocks by size, she builds towers, and the little one watches.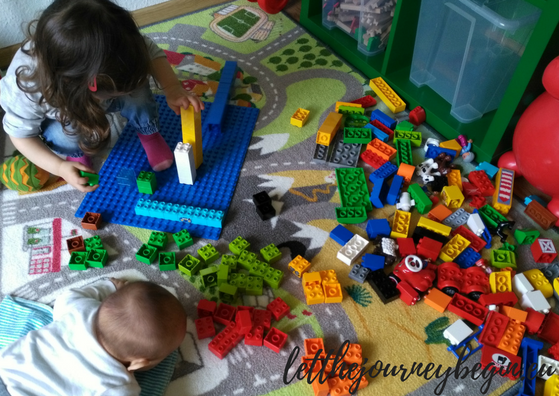 Bamm-Bamm gets cranky around 4.30 pm and I decide to pack him in the carrier again. My back won't thank me for this, but this way I can combine cooking dinner and making him nap. Birdy doesn't feel like playing by herself so I take her with me to the kitchen and give her the task of washing veggies for the soup. This works well for a little while but, once she's done snacking on the freshly washed carrots and tomatoes, also water play is getting boring.
She notices the painting brushes left for drying near the sink and decides that she wants to paint with water paints right this exact moment. I try to explain several times that we can paint as soon as I'm done preparing the soup, but the missed nap is making itself noticeable and Birdy won't listen. As she decides to climb the counter to get the brushes and paint herself I warn that she will have to leave the kitchen if she continues. She completely ignores me so I have to fulfill my threats: I put her in the hallway and close the safety gate on the kitchen door.
If you've ever had a toddler at home I'm sure you can imagine what follows. Major meltdown. Well, at least she's not throwing herself on the floor. As Birdy starts calming down I suggest she plays with Legos a bit more while I finish up and then we can paint together. My idea is not met with appreciation but eventually she realizes that I'm not going anywhere right now and leaves, still complaining. In a few minutes the crying dies down and I quickly finish making the croutons.
As I leave the kitchen some 10 minutes later I'm reminded of one of the main rules of toddlerhood: silence never ever means something good. Birdy is in the living room busy painting by herself. On the floor. The whole floor next to the drawing table, as well as her hands, are covered in green. I briefly wonder whether she first painted her hands and then the floor, or the other way around. I scold her and send her to the bathroom to wash her hands, then grab a floor wipe and begin cleaning up. In moments like these I'm happy that we buy her the ridiculously expensive painting supplies for toddlers, if anything they're super easy to clean.
By the time daughter and the floor are cleaned up, all I need is a moment of peace and my back requests I sit down. From the looks of it, also my toddler needs a break, days without naps are rough. I fix us both a small snack, we make ourselves comfortable on the couch, and I turn on JoNaLu – her currently favorite cartoon.
As hubby arrives from work around 6.30 pm he finds us on the couch. The cartoon episode is nearly over, Bamm-Bamm has woken up and eaten, and I can set the table for dinner. Fortunately tonight our youngest family member is happy to stay in the playpen and entertain himself while the rest of us are having dinner.
We spend the hour after dinner on the couch, passing Bamm-Bamm from one parent to the other, chatting with Birdy, and reading with her the books that she brings us. Birdy drinks her bedtime glas of milk while we watch the evening news and then it's time for bed. Hubby brushes teeth with her while I dress Bamm-Bamm in his pajamas. Then the little one has to wait a little while I help Birdy into her pajamas and kiss her goodnight.
As most evenings, hubby is putting Birdy to bed while I'm in charge of Bamm-Bamm. No nap means that my better half has an easy job tonight as is much faster than me. By 8.30 pm both kids are asleep, we're not always this lucky. As my need for me time is bigger than my need for sleep I join hubby by the TV. We chat, browse the internet, and drink tea until it's time to go to bed for us as well.
This hasn't been a great day but neither was it bad. It's one of those days that, given time, blend together in everydayness. And perhaps because of that it's worth keeping this snapshot of our family life. It may be an ordinary day now but everyday life will never again be exactly as it is at this moment in time.