The rainy, chilly winter weather of Hamburg would have probably turned me into a little hermit for the whole beginning of the year (seriously, why would anyone ever go out in this weather willingly?) if not for one of the moms I met at the baby class. She has a knack for finding fun events and playgroups and, as our baby daughters have only four day age difference and know each other since they were three moths old, going out together is always fun.
On a Friday morning a few weeks ago we met up to check out a get-together called parent cafe (Elterncafe) in the Elternschule Eimsbüttel. The "parent cafe" is basically a playgroup with a buffet breakfast and some singing time and finger plays to top it off. At a cost of three euros per grownup this sounded like a pretty good deal.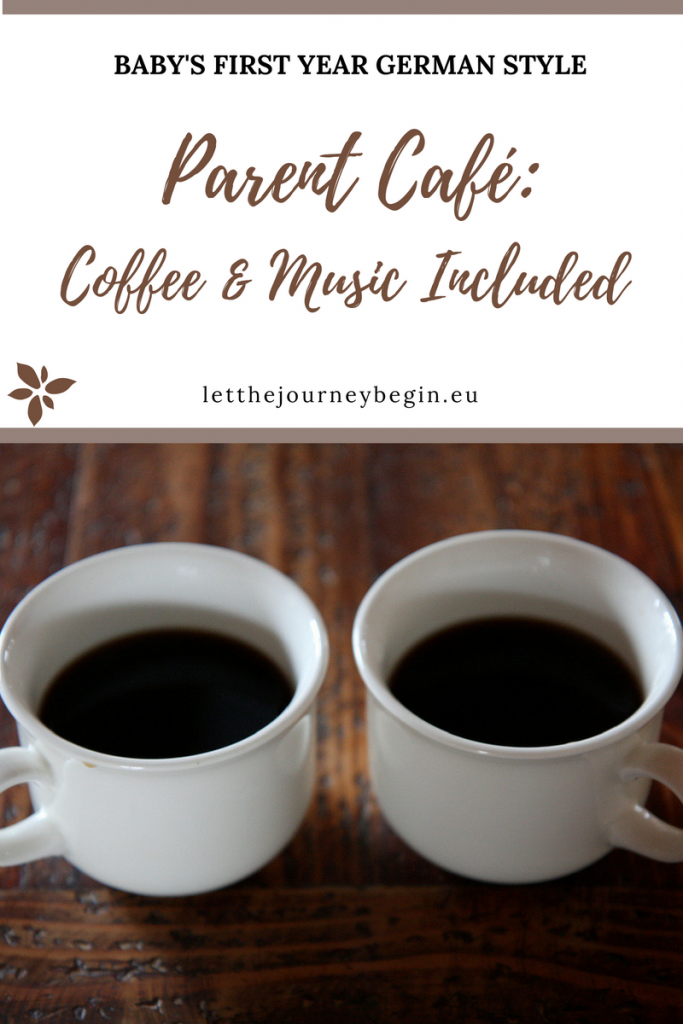 The singing
We arrived at the Hamburg Haus where the cafe was taking place well ahead of time, quickly located a room already full of babies and begun taking our coats and shoes off. A few minutes later we found out that we are, in fact, in the wrong part of the building. So up the stairs we went and finally arrived at the Elternschule, literally, parent school, that is hosting this weekly event.
Due to getting lost we were a little late and we barely had had time to sit down in the biggest of the rooms dedicated for the Elternschule when it was time to begin. All the parents and the babies gathered around in a big circle and we started with the first children's song. Luckily this was one that I knew from the baby class so I could sing along.
I muddled through most of the other songs and finger plays by listening to what the others were singing and repeating movements after them. Birdy did not care much for me singing in German though. She, who is usually all ears when I sing something from my Latvian repertoire, had decided that the nearby shelf with toys is far more interesting.
The eating
After some twenty minutes of nursery rhymes it was finally time to get to breakfast. We wasted no time and headed to the kitchen area to see what was on the menu. The volunteering parents had done a great job, everything looked delicious. Furthermore, every single of the breads, cheeses, spreads, veggies, and fruit was baby and toddler appropriate. The only thing that I did not share with Birdy was my morning coffee.
While eating we struck up a conversation with the social worker who was in charge of that day's meeting. I learned that "parent schools" such as the one were at are an institution unique for Hamburg. They have been running since the 1960s and by now there are over 30 such schools all over the city. They offer countless playgroups and various courses for parents with kids until the age of three and, since they are state-funded, most offers do not cost more than two or three euros. Pretty great, right?
But I digress.
The playing
Breakfast almost over, Birdy had found the play kitchen and was having fun opening cupboards and carrying around cups. Meanwhile I was chatting with two other moms about crazy stuff we had to do for our bachelorette parties (mine included having to run around in a blond wig). In the middle of the conversation I realized that daughter is no longer in the room – she had gone off exploring on her own.
Luckily I did not have to search long. I found the little one in the next room: one furbished with huge mattresses, stairs with a slide, and a ball pit.
Birdy had never been in a ball pit before and neither had I (really?! Yes, really. I was technically born in the USSR, you know, no ball pits in my childhood) so we both jumped right in and had a lot of fun. We stayed there playing with balls, digging through balls, hitting balls against one another, and so on until it was time to wrap up the breakfast.
After a short round of goodbye songs it was time to leave. The girls were so tired that they barely kept their eyes open to get dressed and were soundly asleep by the time we made it to the bus stop.
One thing was clear: we are definitely coming to the parent cafe again!
---
The details
Where: Elternschule Eimsbüttel, Doormannsweg 12 (Hamburg Haus), 20259 Hamburg
When: every Friday between 10 am and 12 pm
Costs: 3 Euro per grownup
---
Check out also the other articles from the Baby's First Year German Style series:
Read about the lessons I learned in the PEKIP course a.k.a. Germany's most popular mommy and me class in the post 5 Things I Learned at Baby Class.
Find out more about baby swimming classes, including some valuable first time tips, in Swim Baby, Swim!
Learn about the German approach to starting daycare in the post Birdy Goes to Kindergarten.