This year the 4th of March will be Shrove Tuesday: the day before Lent which means it's also the day to eat rich and fatty foods before fasting begins. In many countries this day is also known as Pancake Day. If that's not a good reason for making pancakes, I don't know what is!
So in anticipation of Pancake Day let me share with you two recipes for a little unusual kind of pancakes – ones made with buckwheat flour. To be fair, buckwheat per se doesn't entirely fit the over-the-top indulgence motto of Pancake Day – it's healthy, nutritious, packed with fiber and gluten-free on top of that. But it's what you put on top of your pancakes that makes a difference!
Buckwheat pancakes take a little longer to prepare because, as the flour has no gluten, the batter needs some time to develop the necessary elasticity and taste. Good news is that the preparation of the batter takes only a few minutes and it can be kept in the fridge until you wish to start cooking.
French style: Breton galettes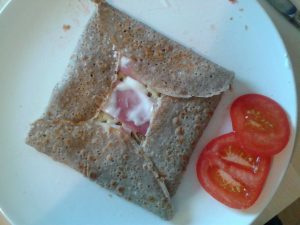 Ingredients:
300 gr buckwheat flour,
700 ml cold water,
1 egg,
salt to taste,
for topping: 

grated cheese, some ham or sausage, eggs, tomatoes, salmon etc.
Mix the flour and salt in a bowl. Add 1/3 of the water and whisk until smooth. Gradually add the rest of the water. When the liquid is well mixed add the egg. Cover the bowl and put it in the fridge for a few hours (you can also prepare it the day before and leave it the fridge overnight). If you wish you can add a little white wine or butter to the dough to make it a little less dense. Your batter should be rather liquid and pour easily.
You fry these pancakes just like you'd fry a crepe: heat up a large pan with some vegetable oil, pour in a ladle of the batter and spread it evenly. Fry for 2-3 minutes on each side. Once you've popped the pancake over sprinkle it with some grated cheese to allow it to melt. Once the both sides are done move the pancake to a large plate and cover with the toppings of your choice: ham, sausage, tomatoes, spinach, eggs, salmon – whatever you have at home and you think goes together well! Fold up the sides (see photo) and serve while still hot.
Russian style: oven-baked blinis
Ingredients:
60 gr buckwheat flour,
1 big egg,
250 ml milk,
20 gr melted butter,
salt to taste,
120 gr smoked salmon,
200 gr creme fraiche,
(optional) onion or some horseradish
Whisk together the egg with 100 ml of milk in a medium sized bowl. Add salt, flour and whisk again. Then add the melted butter with the rest of the milk and whisk until completely smooth. Leave the dough to rest for 15-20 minutes.
Heat up the oven to 200 degrees Celsius. Butter a big a pan (or use some baking paper) and pour in the dough. Put in the oven and bake for approx. 15 minutes.
Remove from the oven and cut to your preference – you can cut the pancake in bite sized pieces, use a round form for cutting out little circles, or just cut it up in a few big pieces.
Serve topped with smoked salmon and creme fraiche. For even better taste you can add some thinly sliced fresh onion or mix around 1 tsp of horseradish in the creme fraiche.
Enjoy!