Do you ever feel cravings for childhood foods, made just the way your mom or your granny used to? The summer heat wave suddenly made me crave one of my favorite childhood desserts, one I hadn't eaten for almost a decade and certainly had never cooked myself: debesmanna.
Translated literally, the name of this simple and mouthwatering dish is "heaven farina". In contrast, the usual English translation is much less poetic: mousse. Debesmanna is a staple of the Latvian kitchen and THE childhood dessert for most Latvians. It is sweet and tart, and incredibly easy to make. And, not counting the milk that it is commonly served with, you only need three ingredients: farina, sugar, and berries of your choice.
The most classical type of debesmanna is made with cranberries. But, as we're still in strawberry season here in Germany, let me present to you a slightly different version, inspired by and adapted from Sandra Kalniete's cookbook – memoir "Prjaņiks. Debesmannā. Tiramisu".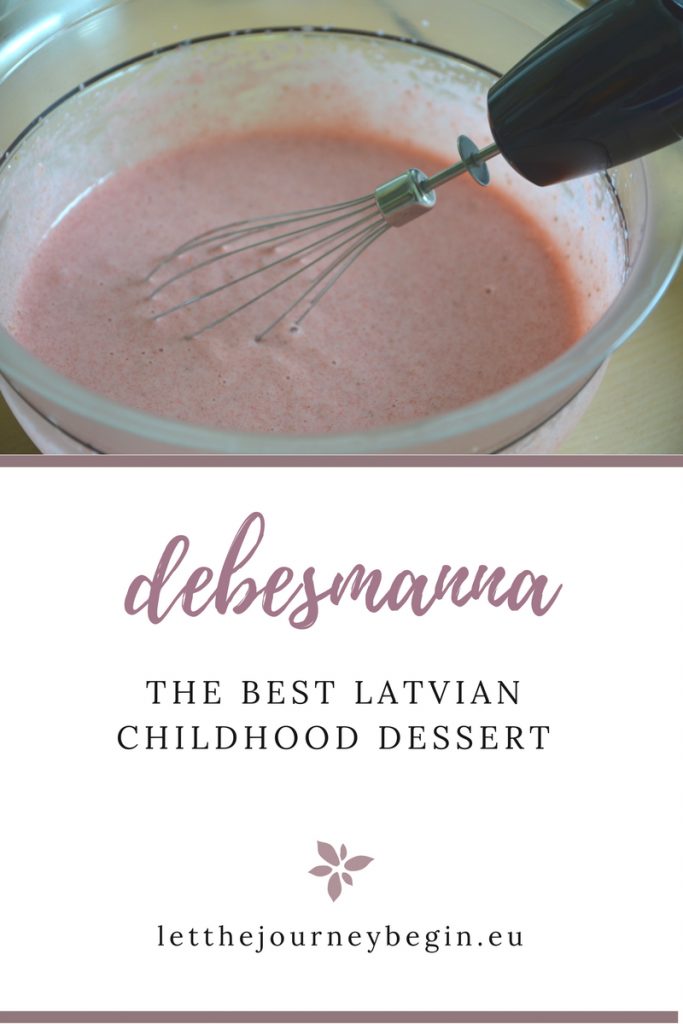 Strawberry Debesmanna Recipe
You will need:
500 gr strawberries / 2 cups strawberry puree
1 ½ cups water
4 Tbsp sugar
5 Tbsp farina or cream of wheat
1 Tbsp lemon juice
(optional) milk for serving
Instructions:
Clean, wash and puree the strawberries. Pour the puree and water in a medium sized pot and bring to boil. Add sugar, then slowly and gradually whisk in farina, making sure that it doesn't form lumps. Boil for around a minute, then add lemon juice, and remove from heat.
Once slightly cooled down but still warm, transfer to a mixing bowl and process for at least five minutes. Cover and place in the fridge to cool and thicken.
Serve in bowls covered with some milk.
Ideas & variations:
This wonderful dessert can be made with almost any berries (fresh and frozen) or their juices: blackcurrants, redcurrants, bilberries, cherries, raspberries, plums, the list goes on.
For the more classical cranberry debesmanna recipe check out the Saveur magazine.
If you wish a sweeter taste, replace milk with vanilla sauce.
---
Welcome to our Olympics for Kids series! The Olympics are a wonderful opportunity to teach kids about the world and explore cultures together.
Today, you can find more about other recipes from various countries thanks to our participating bloggers:
5 French Recipes to Cook with Kids – Multicultural Kid Blogs
A Taste of South Africa – Globe Trottin' Kids
Chilean Sopaipillas – La Clase de Sra. DuFault
5 Dutch Foods You Need to Try – Expat Life with a Double Buggy
My Favorite Latvian Childhood Dessert – Let the Journey Begin
Puerto Rican Shortbread Cookies with Guava – Discovering the World Through My Son's Eyes
Brigadeiros – the piri-piri lexicon

Don't forget that you can also download our
Summer Games Unit
activity pack to learn more about the world and have fun during the Olympics.
Save