Flying with a toddler is a combination of words that often causes unease among parents and co-passengers alike. I used to be one of those people who, upon seeing a mom with a small child boarding the plane, would start chanting in my head "please don't sit near to me, please don't sit near to me". Fast forward a few years and now I am one of those moms myself.
Our little Birdy is not yet two years old but she already has more flight experience than I did at the ripe old age of 20. Her first flight was at the age of nine months when we traveled to her grandparents in Latvia for Christmas. We were worried how our infant would handle the flight but it couldn't have been easier – she fell asleep right after the take-off nursing session and woke up just on time to be nursed for landing. Who knew that flying with a baby could be so relaxing!
The level of difficulty has risen now when Birdy's a toddler but we have perfected a nice little routine that gets us through the flight with as little stress as possible. Let me explain our approach to flying with a toddler by breaking it down into seven steps.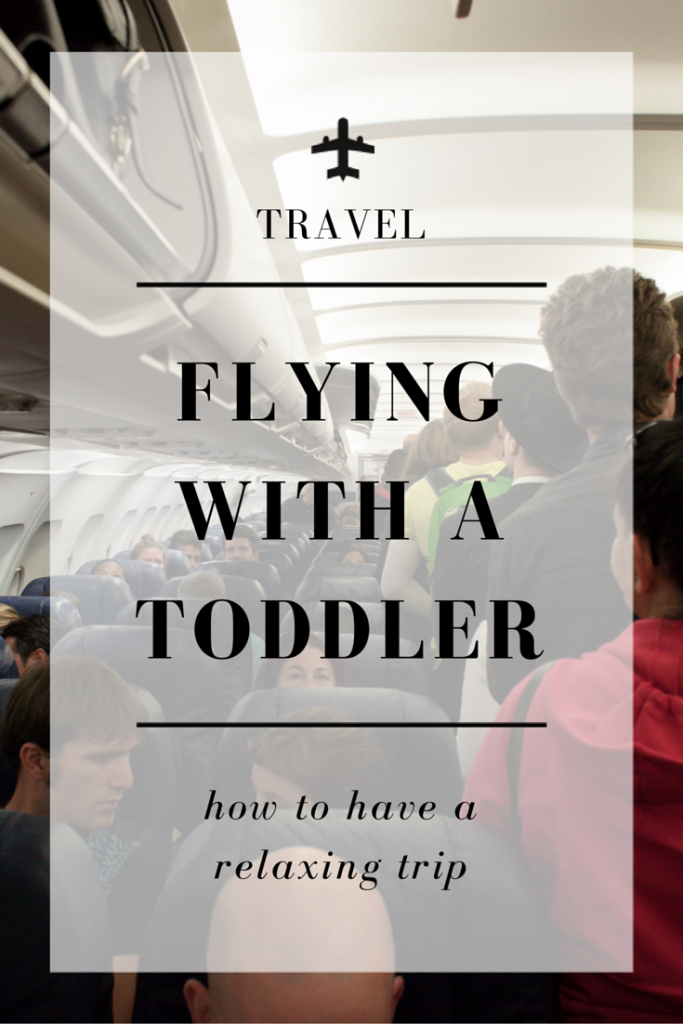 This is how we do it
Before I continue I should clarify that we are lucky to have a child who's perfectly happy sitting and playing with a book, puzzle, or drawing board for long periods of time. Combine two of these and you'll easily have her busy for an hour. Furthermore, she generally doesn't like having lots of strangers in close quarters which means less running up and down the isle for us. Birdy is usually busy enough between her toys and the few people who sit directly next to us and doesn't need much additional entertainment.
Step one: playtime on the way to the airport
Although there are direct flights between Hamburg and Riga, we usually complicate our lives by opting for the much cheaper flight connections from the nearby towns of Bremen and Lübeck. This adds an extra hour on the train or on the bus to the journey but is still very much doable. We usually try to keep Birdy occupied with a few toys
Step two: pre-boarding run around time
Once we have reached the airport the motto is unloading energy. During check-in, security check, and particularly once we're in the secure area we let Birdy stay on her feet, play and explore as much as she wants. Of course, within reason and as long as it doesn't bother other passengers too much. We also make sure that she has something to eat and that she gets a fresh diaper.
Step three: the baby carrier magic sleep solution
By the time boarding approaches the little one has had plenty of playing and running around, is fed and watered, and has a new diaper so we pack her in the baby carrier for a nap. Even if she claims that she doesn't want to sleep the carrier usually does its magic within 15 minutes or so. As even the discount airlines here in Europe have automatic priority boarding for parents travelling with small children we head to the pleasantly short priority queue and use the chance to be among the first passengers on the plane.
Step four: boarding and take-off with an asleep toddler
The beauty of boarding the plane with the little one fast asleep (if we've timed it right she's well into the deep sleep phase by then) is that we can make ourselves comfortable and relax during the boarding, taxi, and takeoff. There might even be enough time to take out a book and order a cup of tea or a snack while our toddler is peacefully sleeping on one of our laps.
Step five: food and games
As Birdy wakes up around a half an hour into the flight we make sure that she drinks something and feed her one of those squeezable fruit pouches – they're not only perfect for equalizing air pressure in her ears but also among her favorite foods. If we're lucky enough to have a free seat close to us we move the little one over for playtime. As she's not yet age two she doesn't get her own seat, the space is starting to become a little tight if she needs to stay on our laps. We don't pack too many toys – two books, one of which is brand new, and perhaps one or two small toys. Stackable puzzles and busy wallets work especially great.
Step six: the landing procedure
Once the pilot announces that the plane is descending it's for Birdy to return to the lap and put her seat-belt on: probably the most boring part of the whole trip for her. Fortunately toddlers are easily distractible from their discomforts – this is usually the best time to bring out a toy she hasn't played with yet or start pointing out things around us. Once the plane is about to land we give her another squeezable fruit pouch and/or something to drink for equalizing the pressure in her ears.
Step seven: the airport workout
With the plane on the ground it's high time for some more physical activity. Once we've reached the baggage claim area she's free to move around with one of us keeping an eye on her and the other picking up the bag(s). From then on she can stay on her feet and work off the energy before we have to head further.
This simple routine has made our travels largely stress-free. Of course, our great traveller of a toddler gets some credit as well! Even when I was flying solo with her back in October the trip was pretty easy and as relaxing as spending time with an under two year old can be.
Our approach has been fine-tuned for 1,5 – 2 hour flights. We knew that the upcoming trip to the USA with a whopping 9 hours on the second flight would be quite different. How did it go? That's a story for another time, stay tuned!
I would love to hear from you: do you have any good tips or best experiences for flying with a toddler or a baby? Please share in the comments!
My favorite resources for flying with babies and toddlers
20 Tips for Smoother Travel with a Baby or Toddler from Alice at The Science of Mom – there's plenty of lists out there but everything that I've read so far this one really does fit our own experiences the best
Flying with Babies, Toddlers and Kids from Debbie at Delicious Baby – plenty of very useful tips about everything from preparing for the trip to the plane landing, plus links to other articles, e.g., about keeping your little one busy on the plane or helping them sleep
Tips For Flying With An Infant Or Toddler from Corinne at Have Baby Will Travel – best advice for travelling with small kids split by age group with plenty of examples from her own experience
Flying With Children: The Ultimate Guide To Less Stressful (And More Fun-Packed) Flights With Kids from the travel website UpgradedPoints.com