I believe that I don't need a survival kit to be prepared for the upcoming zombie or robot apocalypse (at least this time). Yet I am still what I am: a geek who won't set out on a long trip without a travel medicine kit. So what do you really need to take with you when traveling to South East Asia?
There has always been this little ritual with my father: he brings a lot of "presents" to Malaysia – creams, medical supplies, tissues…
Oh, tissues… I remember the time (over 15 years ago) when the tissues you could buy in Malaysia had the quality of cosmetic wipes. So my father brought many packs of nice three-layer tissues from Germany. Let's face it: there is one thing the Germans know besides how to make cars and that is how to suffer through colds. But by now I can ensure you that good quality tissues can be bought in Malaysia. I hope I will be able to talk my father out of bringing some this time.
With that in mind, it is actually the same with other medical supplies in Malaysia. By now you can get pretty much anything and for a much better price. The times have changed to the point that by now I am buying tiger balm (and other Chinese wonder things) in bulk just to save around 70% compared to the price here. Works great for the aforementioned German colds.
So what really needs to be in your travel medicine kit?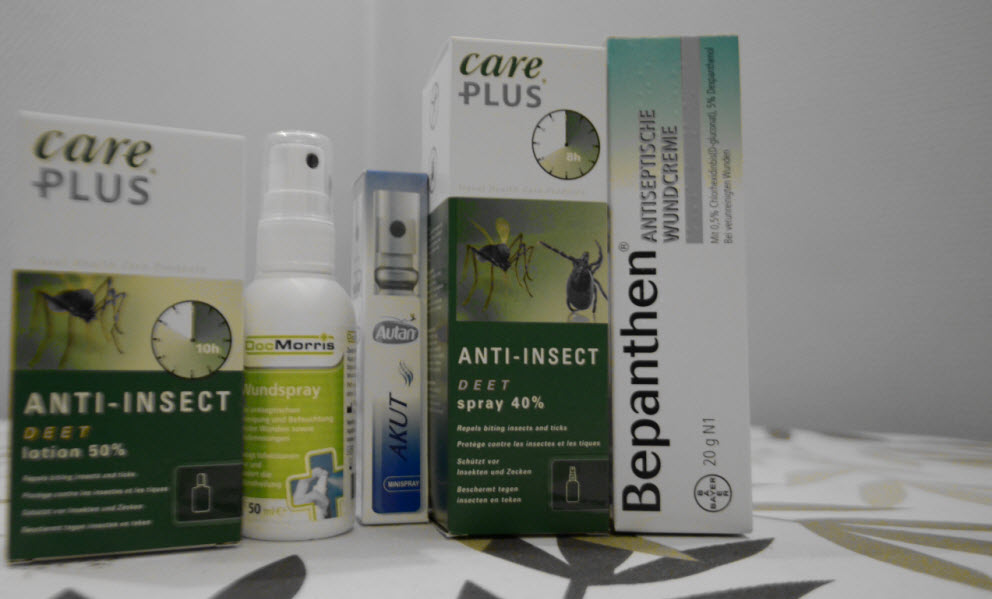 Here is a list of the usual stuff that I always take for travels to South-East Asia, including things you might need during the trip or shortly after your arrival.
Mosquito repellent (a lot of it!) – you can never have enough of it, those little buggers love fresh blood!
Pain killers & digestion medicines – not a big amount, but you might need them during the trip and the climate and food change,
Sun blocker – even I would get sunburned after the winter, and most Europeans I know would turn red as fast as a lobster that's thrown into boiling water,
First aid kit (bandages, disinfectants) to take care of all the small stuff like scratches or bruises (thanks to the boy-scout indoctrination),
And, not to forget, a few packs of tissues.