It may sound strange, but I miss the smell of Malaysia, the really hot and moist air. Of course only in small doses. All of this is coming to my mind because we have spent the last couple of weeks thinking about our honeymoon. It will be Ilze's first time in Malaysia. The only question was: what to show her? As mentioned before, we have been planning to go from Kuala Lumpur to Perak, and then continue to Tioman and Singapore.
Finally, our plans are taking more shape. I got told once that you haven't been to Malaysia if you did not try the king of fruit. I hope we will manage to have some in the first two weeks there. This part of our trip will be all about family and the places where my family has lived for so many generations.
Of course, we will also spend some time discovering Kuala Lumpur. Since most of the sights are in the center of KL, we are considering booking a hotel in the city center for a few nights to be able to explore the city on foot and to be independent of the crazy traffic and the metro.
Afterward, we will fly from KL to the island of Tioman where we hope to be able to spend some time exploring the island, jungle trekking, lazing in the sun, snorkeling and swimming. We found a cute place to stay: a wood house right on the beach. It will provide us with all things that we will really need: a fan, a hot shower (Ilze's wish), a bed with a mosquito net, and (hopefully) also a power outlet.
To get some rest from all the adventure we will travel (by ferry and bus) to Singapore where we will spend three days in a nice hotel. Finally, we will fly back to KL just in time to pack and have a goodbye dinner with the family and return to freezing cold Europe the next morning.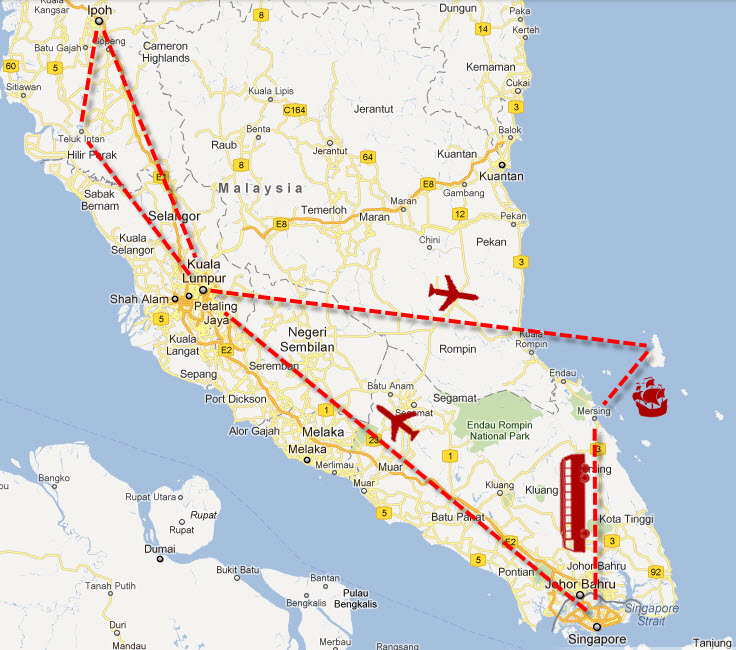 Read about our honeymoon in Malaysia: