If there is one thing that I have learned from parenting outside of the country where I was born and raised myself, it is that cultural differences exist with regards to EVERY SINGLE THING about raising a child. What's the best sleeping position for your baby? Should you give her a pacifier and if yes then from when? What should be your baby's first solid food?
Faced with vastly different advice wherever we turn, we parents can either freak out or loosen up. Yes, you read that right: loosen up. Understanding that most (but not all!) differences in child-rearing are purely cultural and there is no single correct way of doing things, is an incredibly freeing realization. It means that YOU can do what works for YOUR family and circumstances.
The wonderful book Feed the Baby Hummus, Pediatrician-Backed Secrets from Cultures Around the World is perfect for doing exactly that. The author, Lisa Lewis, MD, takes us readers around the world, providing insights into fascinating parenting techniques from different countries and cultures along the way. Scroll down for my review and a chance to win a paperback copy of the book!
---
Disclaimer: I received a free copy of the book for review purposes, all views are my own. Click here to find out more about this book and where to purchase it.
---
Feed the Baby Hummus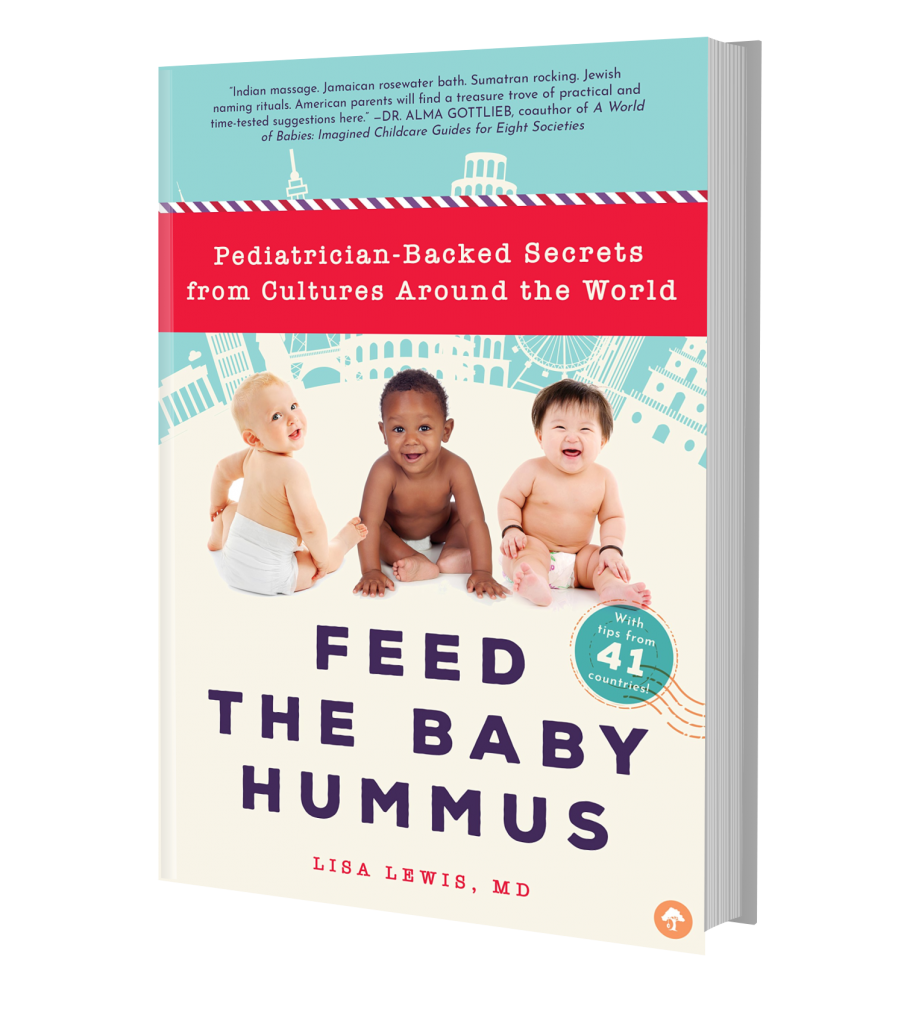 Feed the Baby Hummus is divided into four parts:
Behavior and Development,
Decisions to Make,
Diet and Nutrition,
Building Immunity and Body Care.
Making your way through the book, you'll learn about baby massages Indian-style, Venezuelan and Singaporean approaches to dealing with sibling rivalry, and Scandinavian secrets for great nap times. As you can probably guess from the title, a good portion of the book is about feeding the baby in different countries. This includes everything from breast- and bottle-feeding, interesting first solid foods, and even a Latin remedy for hiccups. Plus, in the appendix, you'll find some baby food recipes from different corners of the Earth.
These and other stories from across the globe are masterfully intertwined with practical and judgment-free pediatrician advice about everything you need to know about taking care of a baby. For me, the most important lesson of this book is a simple as it is wise: relax and do what works for you. As Lisa perfectly puts it in the book's introduction:
Your baby's needs are simple: food, clothing, shelter, access to healthcare, and, most important, lots of love. Keep your parenting style simple while recognizing that no perfect parent exists.
Participate in the Giveaway
And now comes the best part: you can win a free paperback copy of Feed the Baby Hummus by entering the giveaway below!
Either leave a comment on this blog (just scroll down) or visit our Facebook page. Or even double your chances of winning and do both! The lucky winner will be announced on March 14, 2018 here on the blog as well as on Let the Journey Begin's Facebook page.
Congratulations to the lucky winner!