When was the last time when you cooked a food from a country other than your own? Many of us do from time to time but no one that I know has taken global cooking as seriously as my fellow MKB blogger Sasha Martin who, over the course of four years, cooked meals from every single country and documented this incredible culinary journey on her blog Global Table Adventure. Sasha has recently published a memoir titled Life from Scratch and, to celebrate this wonderful achievement, a bunch of us from the MKB are teaming up for a big surprise: each of us is cooking one recipe from her blog or book and writing a post about it!
But how does one choose just one recipe when Sasha has covered 195 countries and assembled over 650 recipes?!
First, I checked what Sasha has cooked from my home country Latvia, but I make apple pancakes often enough and no birthday kringel (aka kliņģeris) that I could bake will ever be able to compete with the one from my favorite Latvian bread baker. Besides cooking something Latvian would be kind of boring, right? This is supposed to be an adventure, after all.
As someone with a serious sweet tooth, I next decided to explore the Global Table Adventure collection of desserts. I browsed through mouthwatering photos of apple empanadas from Ecuador, Macedonian rice pudding, semolina cake with lemon and rose water from Saudi Arabia, and Estonian gingerbread ricotta tart. But the more cakes, cookies, and other sweet treats I saw, the more I realized that they are not at all that what I crave (I might make that tart for Christmas though, it sounds perfect).
Autumn has rolled around here in North Germany and this increasingly dark, cold, and damp weather puts me in the mood for soups and stews: the ultimate autumn comfort food. I was first tempted by the Uzbek harvest stew but I didn't feel that it's much different from stews in my usual repertoire. After a little more browsing the choice came down to two amazing recipes: Eritrean lentil stew and Nepalese dhal baht. I decided for the latter mainly because I couldn't get my hands on a berbere spice mix. But I haven't given up yet!
I got to cooking this wonderful Nepalese dish on a sunny Saturday afternoon. Birdy was sleeping tightly after an exciting morning at the Hamburg Latvian school, sourdough bread was baking in the oven and I had the quiet house all to myself.
I begun by chopping and grating all the ingredients, a task quickly accomplished.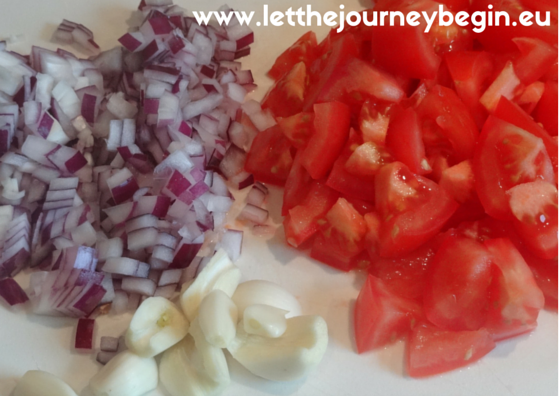 Then it was time to put everything in the pot. Soon the aroma of baking bread was overpowered by the gorgeous smell of frying cumin, turmeric, ginger, garlic, and onion. Heavenly! I had to remind myself to keep a little further away from the steaming pot as frying onions are guaranteed to make me tear up.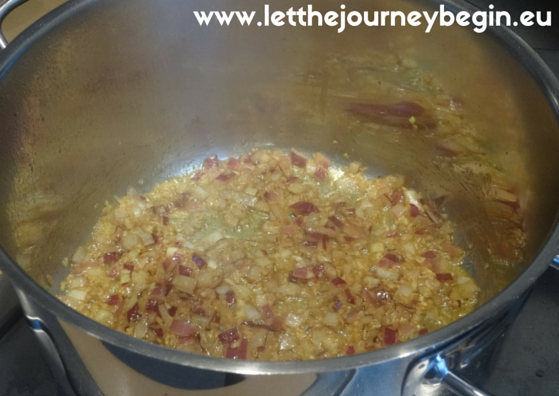 A few minutes later I added the rest of the ingredients, water, and let the soup begin cooking. I had failed to find split yellow peas in my supermarket but since I was planning to let the dhal simmer for a good two hours it really wasn't a problem. I just had to remember to stir every 20-30 minutes: the soup gets wonderfully thick as the peas slowly dissolve and thus risks of burning on the bottom of the pot.
Once the dhal was cooking I threw some rice in the rice cooker and the dinner preparations were done. Good timing too as Birdy was beginning to wake up.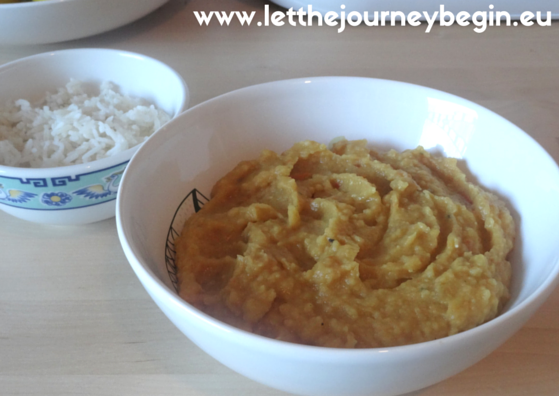 The dhal baht made a great dinner for an autumn Saturday, it was warm and filling. As good as the mix of spices tasted together with the yellow peas, hubby and I were missing some spiciness so we improved our portions of the soup with some sriracha sauce that my Asian father-in-law keeps us well supplied with. Yummy!
If you'd like to try cooking this traditional Nepalese dish, here's the recipe of dhal baht from Global Table Adventure.
---
Check out also the global cooking adventures of my fellow MKB bloggers: