In less than 10 days Christmas will be celebrated all around the world. But, if you visited an average Latvian house this week, you would see little that points to the fact. You might find an Advent wreath, but will likely see no signs of a Christmas tree or any other decorations. You see, Latvians decorate their trees and houses only a few days before Christmas, many not before the morning of the 24th December.
On the other hand, unlike kids in the US who have to patiently wait until Christmas morning, Latvian kids get their presents from Father Christmas (Ziemassvētku vecītis) already the evening before. But there's a catch: if you want to receive your presents you have do something in return! For each gift you'll have to stand by the Christmas tree and recite a rhyme or sing a song.
Fortunately, Latvian folk rhymes are only four lines long and fairly easy to keep in mind. And forgetful family members provide great entertainment for the rest of the family!
9 dishes for the Christmas table
As opposed to many other European countries where the main Christmas family meal is on the 25th December whereas the Christmas Eve is a simple affair, Latvians go all out on the 24th December. In fact, traditionally a proper Christmas dinner is supposed to consist of 9 dishes. Some sources even claim 12 dishes!
Typical Latvian Christmas foods include such international classics as pork roast, carp, boiled or roasted potatoes, gingerbread and sweet rolls. But there are also unique local specialties like grey peas with bacon, stewed sauerkraut or pig snout. (Ok, to be honest, I have never tried the latter but the former two are delicious)
Many of these dishes have a symbolic meaning for the upcoming year. For example, fish with big scales like carp shall bring money and luck in financial matters. Whereas grey peas with bacon shall protect your household from pouring too many tears. But only if you don't leave a single pea uneaten!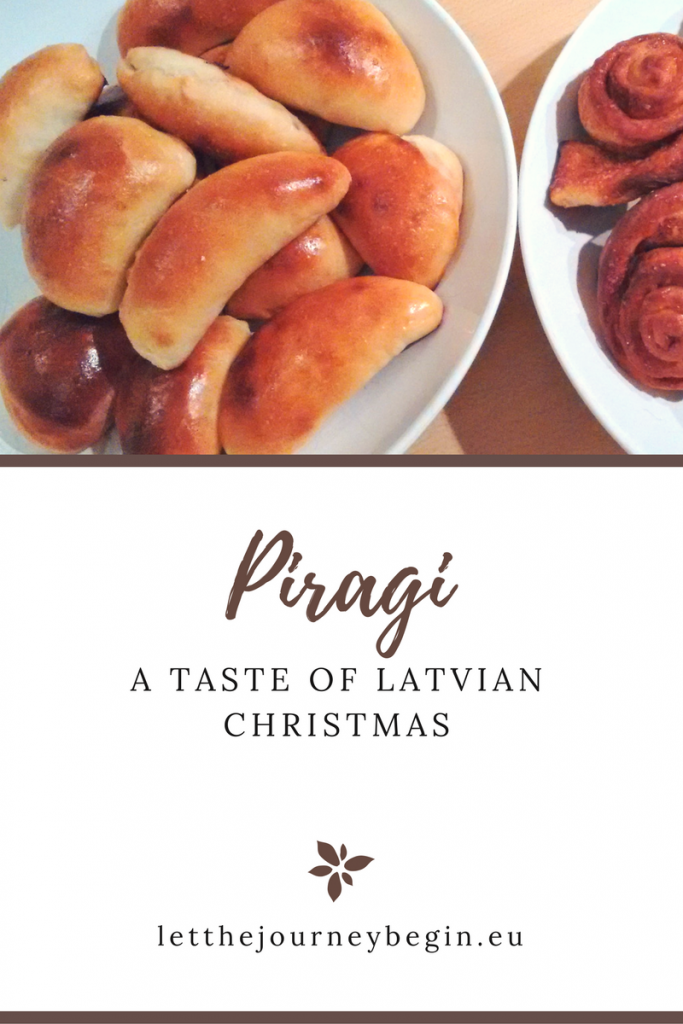 Make your own Pīrāgi
Pīrāgi – oven baked crescents filled with smoked meat – are among the most important Latvian Christmas dishes. In fact, in my family we only make them twice a year – once for the winter, once for the summer solstice.
This, of course, doesn't mean that we don't eat pīrāgi on other occasions. Every Latvian bakery sells them the whole year round. But on Christmas only the home-made kind will do.
Step one: the Dough
You will need:
50 gr fresh yeast
300 ml warm milk
approx. 500 gr wheat flour
3 Tblsp sugar
1 tsp salt
30 ml oil, e.g. sunflower or grapeseed
Convert metric to US measurements here
Instructions:
Crumble the yeast in a small bowl, add one teaspoon of sugar and one teaspoon of flour. Then add two tablespoons of warm water and mix well. Leave it in a warm place, e.g. near a heater, to "wake up" the yeast. This will take you 10-30 minutes. The yeast is ready when it starts to rise.
While the yeast is rising, heat up the milk. Then take a large bowl and add yeast, the warm milk, sugar, and salt. Mix well. Stir in the flour with a spoon to make dough, then continue kneading with your hands.
After you have kneaded for a few minutes, mix in the oil. (This also helps to get that dough off your hands) If the dough is too sticky, you can add a bit more flour.
Finally, roll the dough in a ball and leave it in a warm place to rise for around 2 hours.
The recipe is adapted from my favorite Latvian cooking site Četras Sezonas.
Step two: the Pīrāgi
You will need:
the dough that you made in the previous step
1 egg
300 grams smoked bacon
pepper to taste
(optional) 1 small onion
Instructions:
Heat the oven to 200 C / 395 F and beat the egg in a small bowl. You'll need it a little later.
Cut the meat and, if you wish, onion, in small pieces and fry them in a pan for a few minutes, adding some pepper.
Roll out your dough, now it's time to make the pīrāgi. There are several ways one can do this. The easiest is to take a glass (around 10 cm / 4 in in diameter) and make dough circles. Cover half of the circle with the meat filling, fold it over and press the edges to close. Do it well, otherwise your pīrāgi will open while baking!
(Which, to me, happens all the time. But it doesn't spoil the taste and gives you a good reason to snack on the freshly baked goodness to hide the evidence!)
Place the filled dough crescents on a pan that is covered with a baking sheet. Then lightly brush them over with the beaten egg to give them a shine.
Bake for 10-15 minutes until golden brown. Leave to cool covered with a clean dish towel.
The dough should suffice for two pans of delicious, hot pīrāgi.
Serve and enjoy the taste of Latvian Christmas!
---
Welcome to our fourth annual Christmas in Different Lands series! This year each participating blogger will focus on a different country, sharing a traditional dish and more about Christmas in that country. For even more glimpses of global Christmas celebrations, see our series from previous years (2013, 2014, and 2015), plus follow our Christmas board on Pinterest!
Follow Multicultural Kid Blogs's board Christmas Around the World on Pinterest.
December 2
Multicultural Baby on Multicultural Kid Blogs: Japan – Strawberry Christmas Cake
December 5
Crafty Moms Share: Nigeria – Jollof Rice
December 7
English Wife Indian Life: India – Christmas Plum Cake
December 8
Living Ideas: Indonesia – Tumpeng nasi kuning
December 9
Creative World of Varya: Lebanon
December 12
Hanna Cheda on Multicultural Kid Blogs: Poland – How to Make Polish Gingerbread Cookies
December 13
the piri-piri lexicon: Portugal – Sonhos
December 14
Raising a Trilingual Child: Italy – Diverse Traditions
December 15
Let the Journey Begin: Latvia – Pīrāgi
Spanglish Monkey: Spain – Polvorones
December 16
Pack-n-Go Girls: Austria – Vanillekipferl
December 19
Mom Hats and More: USA – Apple Streudel
December 20
Multicultural Baby: Paraguay – Sopa Paraguaya
December 21
La Clase de Sra. DuFault: Chile – Pan de Pascua
December 22
Uno Zwei Tutu on Multicultural Kid Blogs: Colombia – Hojuelas
Discovering the World Through My Son's Eyes: Roast Pork
December 23
All Done Monkey: Haiti
Don't miss our other posts about Christmas in different lands, plus our printable pack Celebrate Christmas Around the World, on sale now!